Maximalism
Created as a direct response to the ever-popular minimalist style, maximalism is a design method that thrives on excess. It's a loud style composed of mixed patterns, vibrant colors, and excessive but carefully curated collections. It often uses various patterns and textures, pops of color, unique statement pieces, and a combo of classic, eclectic, and bohemian style elements.

Maximalism is all about utilizing your space to convey boldness. It is ornate in nature and uses modern accents to decorate the home to perfection. A great way to incorporate this design trend is through rugs, wallpapers, and paintings of varying patterns and colors. Other small details that can make a significant impact are inviting accents like colorful throw pillows and planters.
Cottagecore
A charming decor style that emphasizes the natural and cozy, cottagecore is heavily influenced by English cottage design elements. This appealing design trend can be utilized in your bedroom, kitchen, living room, and beyond.

Cottagecore is an aesthetic interpretation of a romanticized style rooted in nature. It's often viewed as an attempt to bridge the gap between our modern lifestyles and the whimsy and simplicity of rural forest life. This design style also contains many subcategories, including meadowcore, gardencore, vintagecore, and fairycore. Depending on your particular style, you can adjust this aesthetic to your taste.

Some cottagecore elements to incorporate in your home include dried flowers, live plants, vintage rugs, vintage fabrics and lace, baskets, Victorian teacups, and botanical prints in mushrooms, butterflies, or anything nature-related.
Traditional design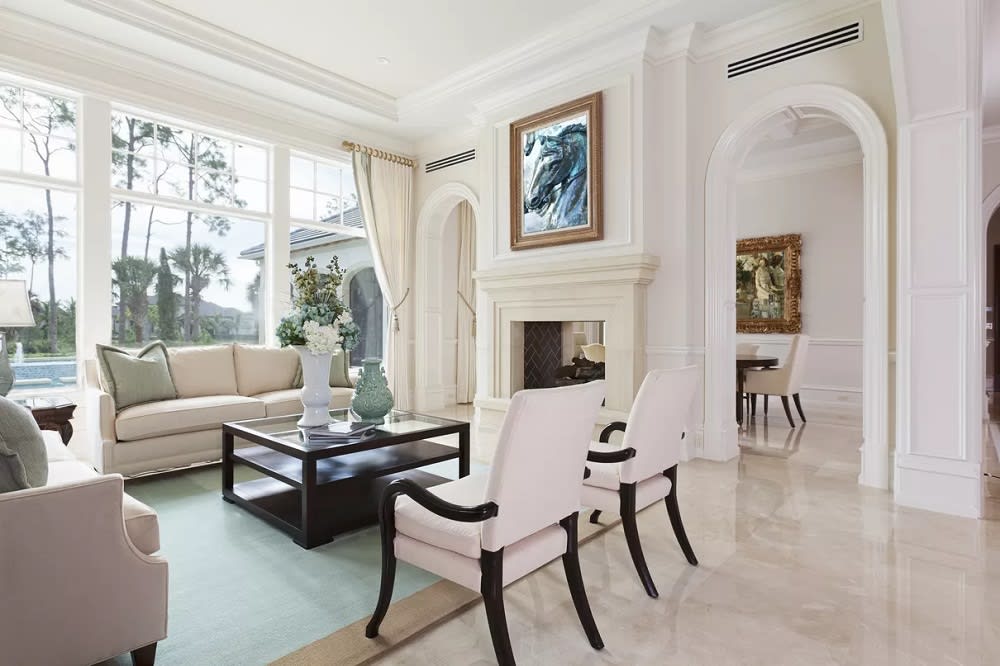 Credit: TerryJ / Getty Images

Inspired by the 18th and 19th centuries, traditional design is a style that incorporates classic art, antiques, and historical pieces. Traditional design is often influenced by style elements of England, France, and even the Far East.

One of the pillars of this decorating style is a sense of harmony and order, meaning symmetry is huge in furniture placement and design. The color palette is defined by dark, warm tones, with artwork and textiles accenting the rich jewel tones of a room. Dark wood, deep red, chocolate brown, and forest green are popular color choices in this style.

Traditional furniture tends to be heavy and ornate, such as clawfoot tubs, tufted upholstery, and carved wood. Fabrics are heavy and substantial, utilizing high-end selections like velvet, silk, and leather. Classic and timeless, you can never go wrong with traditional design.
Modern country design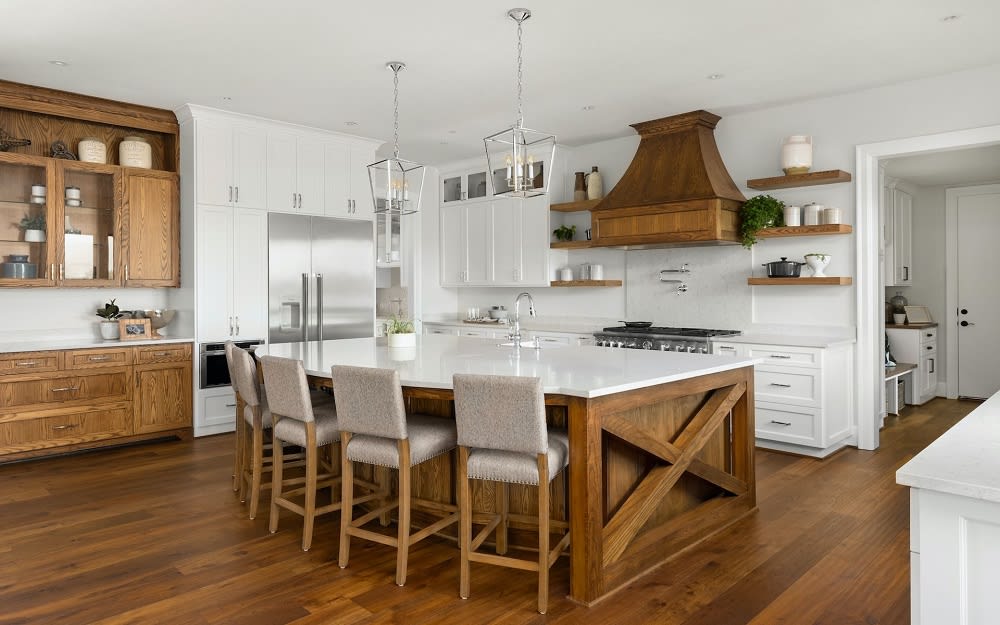 Stepping away from traditional design, modern country style allows for more playful and distinct elements with minimal notes. Wood elements define the modern country design. Wood paneling, wooden floorboards, and classic wooden furnishings are typical features.

Less is more in modern country design, which uses neutral colors like creams, browns, and beiges to create a warm and clean foundation. Mismatched furniture is typical, and browsing thrift stores and boutiques is a great way to acquire one-of-a-kind pieces. Imperfections are celebrated. Every scratch, scrape, dent, and knot in the wood is revered in modern country style.

Focus on comfort, practicality, and floral decor when incorporating this beautiful interior design style into your Druid Hills home.
Rustic design
Rustic style is defined by ruggedness and highlights natural beauty. Creating a relaxed atmosphere with wood, stone, leaves and other organic elements is key. Perfection is tossed out the window, instead of allowing the character of each piece to shine. Overbearing chandeliers, contemporary boxy furnishings, and cold color palettes need not apply. Iron accents, woven blanks, and reclaimed pieces and furs are welcome and encouraged.

Rustic design is raw, simplistic, and aims to create an inviting home interior. The main colors used are wood grains, browns, and warm cream, with muted tans, reds, blues, and gray accents. Cozy blankets and pillows, textures, rugs, baskets, and nature-inspired art are at the forefront of rustic design.
Home gym
When you're a person of means, waiting to use the squat rack at a musty, busy gym is out of the question. The ability to exercise the way you want whenever you want fits right in with your luxurious lifestyle.

There are countless benefits to having a home gym. Aside from unrivaled convenience, a home exercise room gives you complete control over the equipment, cleanliness, and workout playlist — and you never have to share an elliptical with anyone else! This space could include anything from yoga mats and blocks to barbells, free weights, and a squat rack. You have complete control!

As a bonus, a workout room increases your property's resale value, meaning you'll see a significant ROI if you ever decide to sell your Druid Hills property.
Home office
If 2020 taught us anything, it's that being at home with family for extended periods of time creates a need for privacy. As the world shifts, so has the way we work. Many have traded in their office jobs for remote positions, making a home office essential.

Designing a space that fosters productivity is vital. There are many ways to create a home office that will drive you to be more successful in your career than ever before. If you thrive in a clean and uncomplicated environment, opt for a minimalistic approach with a strictly white palette and strategically placed colorful accents. If you prefer a space that matches your vibrant personality, try adding pops of color, such as bright green and gold. Check out this Architectural Digest article on home office ideas for inspiration.
Dressing room closet
Walk-in closets are nice, but there's nothing quite like browsing through your elegant designer apparel and high-end jewelry in the comfort of your dressing room closet. A private space dedicated to your upscale wardrobe and accessories is a must-have amenity in luxury homes. It adds a touch of elegance to your life in an organized fashion.

This space could include anything from vanities to closet hutches, plush benches, and oversized cozy reading chairs. Take it up a notch with floor-to-ceiling mirrors, overhead shoe shelves, and a sit-down table designed for jewelry for the ultimate, boutique-like experience.
Koi pond
Druid Hills homes often boast expansive backyards. What better way to take advantage of your outdoor space than adding a koi pond? Koi ponds are essentially large fish tanks designed for keeping koi. This design element adds a touch of elegance and whimsy to affluent properties.

You can opt for a koi pond with a waterfall for an added air of enchantment or stick to a classic pond for a tranquil home addition. The beauty of koi ponds is not only in the elegant air they bring — they are also reasonably low-maintenance, only requiring a few minutes of upkeep each week.
Outdoor living space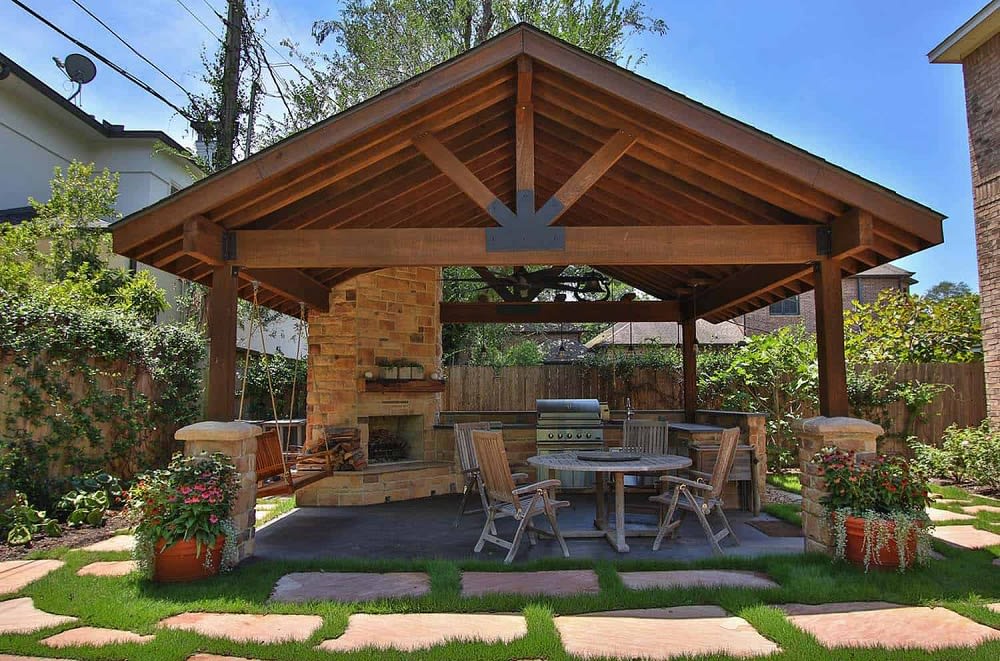 Credit: InteriorCraze

Outdoor living spaces have become a highly sought-after extension of the indoors. These sanctuaries are enriched with functional furnishings that harmonize with their natural surroundings.

Many families seek to take advantage of their property's abundant backyard, so luxury outdoor kitchens have become increasingly popular. Your gourmet outdoor kitchen must-haves include a worktop, a sink, a barbecue, a refrigerator, electrical outlets, a shelter from the elements, and a solid structure, equipped kitchen unit. Complete your outdoor living space with a beautiful and cozy outdoor dining set, an outdoor television for endless entertainment, and some string lights to illuminate family gatherings and cocktail parties. Here are some additional ideas to create a cozy and inviting outdoor space.
If you or someone you know are looking for Druid Hills homes for sale, contact Atlanta real estate agent Molly Carter Gaines today. Molly's extensive knowledge and tenacity will indeed lead you to the Druid Hills real estate of your wildest country-living dreams.

*Header Image Credit: The Spruce / Michelle Becker